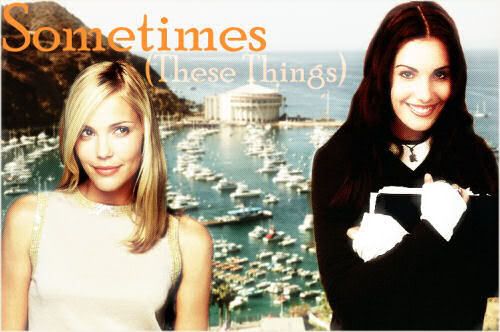 Title:
"Sometimes (These Things)"
Author:
carpesomediem
E-Mail:
carpesomediem[at]gmail.com
Fandom:
Popular
Characters:
Brooke/Sam
Rating:
PG
Word Count:
7054
Author's Notes:
Ryan Murphy created, I just borrowed pretty much forever. This is a prequel to where Popular starts. I've taken a lot of liberty with the possible pasts of the characters, along with trying to set-up some connections within the realm of canon. This is one of the first times I've jumped into the realm of pre-Popular. Special thanks go to my betas:
mysensitiveside
,
talkos
,
trixter21
and
wolfemeister
. A very special shout out goes to my good friend vudulady for making the new banner for the story; she's the bestest.
Summary:
Jane McPherson decides to take her first vacation since her husband died, and Sam tags along for the ride only to find herself not only out of her element but face-to-face with someone new and unexpected.
Part 1 | Part 2 | Part 3 | Part 4
( So, This is What We Call Awkward )